Congés annuels du 7 au 22 août. Les commandes passées du 29 juillet au 6 août seront traitées suivant notre stock disponible.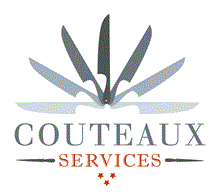 Kitchen, butchers knives, outdoor knives, sharpening material: selection of the best series
The best kitchen, butchers and outdoor knives
Actually not available - delivery delay on request
Minimum purchase quantity
The minimum purchase quantity is not reached
Kitchen knives
Japanese knives
Butchers knives
Hunters knives, Fix blades, Bowies
SHARPENING, GRINDING
PARTNERS
34073-161 Miyabi
Product Details
Gyutoh japanese kitchen knife - Miyabi 6000 MCT series

Application of the Gyutoh :  the same as the chef's knife : cutting meat and preparing large sized-vegetables
Blade 6"1/3 - 16 cm
The blade, thanks to its extremely hard MC63 steel core and traditional Japanese Honbazuke honing, is as sharp as a scalpel.Its hammered surface has an incomparably attractive appearance.
The swan neck-like curved handle gives the knife exceptionnal elegance. 
Made in durable easy-care cocobolo pakka wood with a naturally warm appearance.
A mosaic pin and decorative end cap accentuate its sophisticated look.
Made by Zwilling J.A. Henckels Japan
Japanese kitchen knives Miyabi 6000MCT