Congés annuels du 7 au 22 août. Les commandes passées du 29 juillet au 6 août seront traitées suivant notre stock disponible.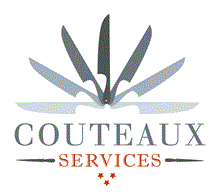 Kitchen, butchers knives, outdoor knives, sharpening material: selection of the best series
The best kitchen, butchers and outdoor knives
Actually not available - delivery delay on request
Minimum purchase quantity
The minimum purchase quantity is not reached
Kitchen knives
Japanese knives
Butchers knives
Hunters knives, Fix blades, Bowies
SHARPENING, GRINDING
PARTNERS
POTCH01
Product Details
Caldron gallows
A new way to serve soups, fondues, meat with sauces, etc...
Caldron in enameled cast iron, all fires, including induction. Stove with gelled acohol, vat to collect juice.
Base in massive wood with rubber feets, bracket in wrought iron.
Dimensions : 260 x 480 mm.
Weight : 6,600 kg.
Meat specialities