Congés annuels du 7 au 22 août. Les commandes passées du 29 juillet au 6 août seront traitées suivant notre stock disponible.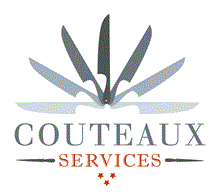 Kitchen, butchers knives, outdoor knives, sharpening material: selection of the best series
The best kitchen, butchers and outdoor knives
Actually not available - delivery delay on request
Minimum purchase quantity
The minimum purchase quantity is not reached
Kitchen knives
Japanese knives
Butchers knives
Hunters knives, Fix blades, Bowies
SHARPENING, GRINDING
PARTNERS
7.7213.20G
Product Details
Forged fileting knife Victorinox "Grand Maître" series
High quality steel X50CrMoV15, blade forged in Solingen (Germany) 
Cutting-edge "made by Victorinox" guaranteed : blades are subject to a double sharpening and to a laser control
Ergonomic handle with 3 rivets,
Blade lenght : 20 cm - 8"
Delivered in a gift box
Swiss forged kitchen knives Victorinox