Congés annuels du 7 au 22 août. Les commandes passées du 29 juillet au 6 août seront traitées suivant notre stock disponible.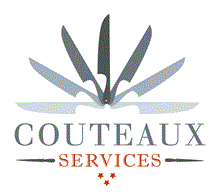 Kitchen, butchers knives, outdoor knives, sharpening material: selection of the best series
The best kitchen, butchers and outdoor knives
Actually not available - delivery delay on request
Minimum purchase quantity
The minimum purchase quantity is not reached
Kitchen knives
Japanese knives
Butchers knives
Hunters knives, Fix blades, Bowies
SHARPENING, GRINDING
PARTNERS
D8194726 Dick
Product Details
Chef's knife Dick 1905 series.

Blade 26 cm - 10"
Hand refined blade, made of German stainless steel XCrMoVMn of the highest quality, produces a cutting edge dynamic and sharp
It was in 1905 that Friedr. Dick created a set of chef's knives with massive rings instead of traditional rivets to attach the handle on the blade. Modern materials and manufacturing processes have been implemented to repeat this unique design. Symmetrical steel rings are inseparably connected to the molded handle, using a unique technology.
Kitchen knives Dick series 1905