Congés annuels du 7 au 22 août. Les commandes passées du 29 juillet au 6 août seront traitées suivant notre stock disponible.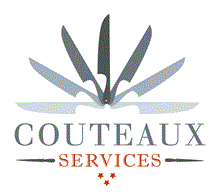 Kitchen, butchers knives, outdoor knives, sharpening material: selection of the best series
The best kitchen, butchers and outdoor knives
Actually not available - delivery delay on request
Minimum purchase quantity
The minimum purchase quantity is not reached
Kitchen knives
Japanese knives
Butchers knives
Hunters knives, Fix blades, Bowies
SHARPENING, GRINDING
PARTNERS
STB-801183 Lion Sabatier
Product Details
Bread knife Lion Sabatier Toque blanche
Rigid blade with half-moon serration, to cut without squashing all kind of bread
Blade 20 cm - 8"
Fully forged, from 4116 NITRO+ , a stainless steel (X50CrMoV15) reinforced with nitrogen, produced in France by Ugitech®
Its qualities: superior hardness, cutting durability and corrosion resistance.
Rockwell hardness: 58/60 HRC.

White POM handle

Made in France
Forged kitchen knives Sabatier Ideal Toque Blanche