Congés annuels du 7 au 22 août. Les commandes passées du 29 juillet au 6 août seront traitées suivant notre stock disponible.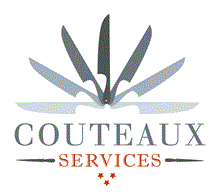 Kitchen, butchers knives, outdoor knives, sharpening material: selection of the best series
The best kitchen, butchers and outdoor knives
Actually not available - delivery delay on request
Minimum purchase quantity
The minimum purchase quantity is not reached
Kitchen knives
Japanese knives
Butchers knives
Hunters knives, Fix blades, Bowies
SHARPENING, GRINDING
PARTNERS
SR098 - set of 4 pièces
Product Details
To protect from shock your knife blades, but also to protect your fingers!
Set of 4 blade guard from different colors, flexible and accommodate any kitchen knife blade up to 21 cm maximum.
Can easily be cut to the correct length with a pair of scissors.
composition: 2 protects cutting length 10 cm + 2 protects cutting length 21 cm

Patented Sabatier.
Protection