Congés annuels du 7 au 22 août. Les commandes passées du 29 juillet au 6 août seront traitées suivant notre stock disponible.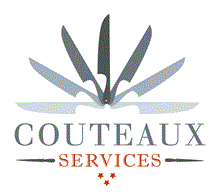 Kitchen, butchers knives, outdoor knives, sharpening material: selection of the best series
The best kitchen, butchers and outdoor knives
Actually not available - delivery delay on request
Minimum purchase quantity
The minimum purchase quantity is not reached
Kitchen knives
Japanese knives
Butchers knives
Hunters knives, Fix blades, Bowies
SHARPENING, GRINDING
PARTNERS
CT60990-15 Deglon
Product Details
Utility or small chef's knife Déglon Oryx
Blade 15 cm - 6"
Blades made of molybdenum and vanadium stainless steel, for a razor cutting edge.
High resistance thanks to its massive forged bolster and to the extension of the tang inside the handle.
Handle made of stainless steel 18/10, finished with a satin feel.
Deglon ORYX knives