Congés annuels du 7 au 22 août. Les commandes passées du 29 juillet au 6 août seront traitées suivant notre stock disponible.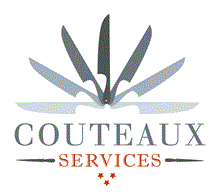 Kitchen, butchers knives, outdoor knives, sharpening material: selection of the best series
The best kitchen, butchers and outdoor knives
Actually not available - delivery delay on request
Minimum purchase quantity
The minimum purchase quantity is not reached
Kitchen knives
Japanese knives
Butchers knives
Hunters knives, Fix blades, Bowies
SHARPENING, GRINDING
PARTNERS
01MB366 Boker Magnum
Product Details
This series of highly functional rescue knives is dedicated to police, paramedic and rescue professionals, who do their best in their dangerous fulfillment of duty and often risk it all to save lives. These knives are equipped with all the necessities - corrosion resistant 440 stainless steel blades, glassbreaker, belt cutter, carry clip .
This model features a high-grip, red G-10 handle with firefighter logo inlay.

Overall length: 8".  
Blade length: 3 3/8". 
Weight: 4.8 oz.
BOKER Magnum folding knives, hiking knives