Congés annuels du 7 au 22 août. Les commandes passées du 29 juillet au 6 août seront traitées suivant notre stock disponible.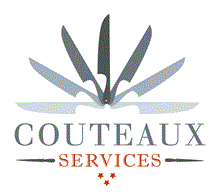 Kitchen, butchers knives, outdoor knives, sharpening material: selection of the best series
The best kitchen, butchers and outdoor knives
Actually not available - delivery delay on request
Minimum purchase quantity
The minimum purchase quantity is not reached
Kitchen knives
Japanese knives
Butchers knives
Hunters knives, Fix blades, Bowies
SHARPENING, GRINDING
PARTNERS
Olive wood handle and 15 cm blade
Product Details
Cudeman hunting knife with fixed blade
A superb outdoor or hunting knife, it will be perfect for all your outdoor activities.
The blade is made of Molybdenum Vanadium steel with a hardness of 54-56 HRC and a satin finish Drop Point with a satin finish A-304 stainless steel ferrule. Thumb rest on top of the blade.
Full tang blade, satin-finished olive wood handle with a very pleasant guard and exceptional grip.
Flat aluminium rivets and a hole on the back of the handle for a locking cord.
High quality leather sheath with snap for better grip.
Can be carried vertically.
Features:
Blade length: 15 cm
Blade width: 3.5 cm
Blade thickness: 5 mm
Handle: 11.5 cm
Total length: 26.5 cm
Knife weight: 232 g
Sheath weight: 90 g

Made in Spain
Hunting knives, fixed blades, bowies