Congés annuels du 7 au 22 août. Les commandes passées du 29 juillet au 6 août seront traitées suivant notre stock disponible.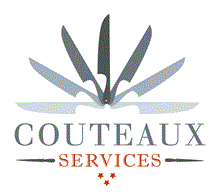 Kitchen, butchers knives, outdoor knives, sharpening material: selection of the best series
The best kitchen, butchers and outdoor knives
Actually not available - delivery delay on request
Minimum purchase quantity
The minimum purchase quantity is not reached
Kitchen knives
Japanese knives
Butchers knives
Hunters knives, Fix blades, Bowies
SHARPENING, GRINDING
PARTNERS
FUS395 Fischer
Choice of colours : :
REDFUS39590 rouge
BLACKFUS39592 noir
YELLOWFUS39594 jaune
Product Details
Ergonomic hard chromed steel  -  Fine cut
The handle is made of one grey elastomer part which is not slippery and the other part of highly resistant plastic.
Available in round and ovale shape with a hard chromed coating.
35 cm
OVALE 
Sharpening steels