Congés annuels du 7 au 22 août. Les commandes passées du 29 juillet au 6 août seront traitées suivant notre stock disponible.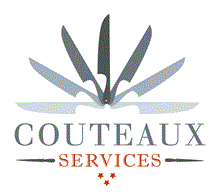 Kitchen, butchers knives, outdoor knives, sharpening material: selection of the best series
The best kitchen, butchers and outdoor knives
Actually not available - delivery delay on request
Minimum purchase quantity
The minimum purchase quantity is not reached
Kitchen knives
Japanese knives
Butchers knives
Hunters knives, Fix blades, Bowies
SHARPENING, GRINDING
PARTNERS
CT11130 Sabatier Lion
Product Details
Chef's knife Sabatier Fuso - blade 8" - 21 cm
Heir to a long tradition
From flint knife, first tool born from the hand of man, the Fuso knife resumes aspect Mono-material, tamper-resistant, indemanchable and totally waterproof, so perfectly hygienic.
Fuso, is of course the choice of the best materials (rich in carbon, chromium, molybdenum and vanadium stainless steel) treated with the latest industrial technology (precision Robotics and Laser) which make a knife of exception.
X50CrMoV15 stainless steel blade
100% stainless steel handle
Made in France
Lion Sabatier Fuso knives