Congés annuels du 7 au 22 août. Les commandes passées du 29 juillet au 6 août seront traitées suivant notre stock disponible.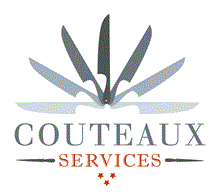 Kitchen, butchers knives, outdoor knives, sharpening material: selection of the best series
The best kitchen, butchers and outdoor knives
Actually not available - delivery delay on request
Minimum purchase quantity
The minimum purchase quantity is not reached
Kitchen knives
Japanese knives
Butchers knives
Hunters knives, Fix blades, Bowies
SHARPENING, GRINDING
PARTNERS
03BO503 - 22 cm (damaged packaging)
Product Details
Bread knife Böker Forge : forged for eternity...
Blade : 22 cm - 8"1/2
Qualities :
Knives perfectly balanced, 
Forged from one piece of specially tempered high carbon stainless steel "X50CrMoV15" to ensure outstanding strength. 
Ergonomically designed handle offering a comfortable and secure grip for effortless cutting. 
Black handle scales made of high quality synthetic material, connected to the full tang with three flawless stainless steel rivets.
Blade and bolster design allowing easy re-sharpening and providing long term cutting performance when used properly (hand wash recommended).
Delivered in a nice cardboard box with foam interior the packaging is slightly damaged at the level of the Böker sticker, it does not stick to the box anymore
Tot Length : 36 cm
Blade : 22 cm
Thickness : 2.7 mm
Weight : 274 g.
Böker Forge kitchen knives