Congés annuels du 7 au 22 août. Les commandes passées du 29 juillet au 6 août seront traitées suivant notre stock disponible.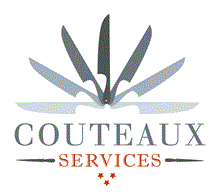 Kitchen, butchers knives, outdoor knives, sharpening material: selection of the best series
The best kitchen, butchers and outdoor knives
Actually not available - delivery delay on request
Minimum purchase quantity
The minimum purchase quantity is not reached
Kitchen knives
Japanese knives
Butchers knives
Hunters knives, Fix blades, Bowies
SHARPENING, GRINDING
PARTNERS
CT813385 Lion Sabatier
Product Details
Fully forged bread knife.
Blade forged from 4116 NITRO+ steel produced in France by Ugitech®, a stainless steel (X50CrMoV15) reinforced with nitrogen.
Its qualities: superior hardness, cutting durability and corrosion resistance.
Rockwell hardness: 58/60 HRC.
Blade 20 cm
Round bolster
Massive olive wood handle                                          
a product 100% made in France
Kitchen knives Lion Sabatier Provençao