Congés annuels du 7 au 22 août. Les commandes passées du 29 juillet au 6 août seront traitées suivant notre stock disponible.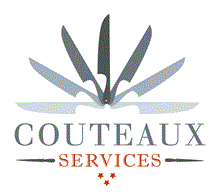 Kitchen, butchers knives, outdoor knives, sharpening material: selection of the best series
The best kitchen, butchers and outdoor knives
Actually not available - delivery delay on request
Minimum purchase quantity
The minimum purchase quantity is not reached
Kitchen knives
Japanese knives
Butchers knives
Hunters knives, Fix blades, Bowies
SHARPENING, GRINDING
PARTNERS
Ergonomic fibrox handle - Available in 18cm-20cm-22cm-25cm and 30cm.
Product Details
Victorinox bleeding knife
High-quality stainless steel blade, "Victorinox" sharpness
Fibrox handle, sterilizable at 150°.

Sizes: 18-20-22-25 and 30 cm.
Made in Switzerland.
Victorinox Butcher's knives