Congés annuels du 7 au 22 août. Les commandes passées du 29 juillet au 6 août seront traitées suivant notre stock disponible.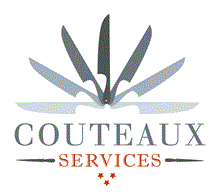 Kitchen, butchers knives, outdoor knives, sharpening material: selection of the best series
The best kitchen, butchers and outdoor knives
Actually not available - delivery delay on request
Minimum purchase quantity
The minimum purchase quantity is not reached
Kitchen knives
Japanese knives
Butchers knives
Hunters knives, Fix blades, Bowies
SHARPENING, GRINDING
PARTNERS
3C12754 professional hi-tech
Product Details
stainless steel AISI 420 - 4034 - X46 CR 13
TIN coated
PVD - 2500 VIKERS
HRc 58 ROCKWELL 

Whats the TIN coated?
The type of coating applied to the scissors is a layer of TIN (Titanium Nitride) by a technique known as PVD (Physical Vapour Deposition).
Thanks to this coating, the surface of the scissors gain considerably in hardness, since the hardness value of the TIN layer is something in the order of 2500 Vickers,
around 4 times greater than that of tempereted steel.
The layer of TIN gives good resistance to erosion  and to chemical agenst, far superior to uncoated steel, and in corrosion tests in saline misy chambers,
the results obtained with this type of coating are even better than those with chrome coatings.