Congés annuels du 7 au 22 août. Les commandes passées du 29 juillet au 6 août seront traitées suivant notre stock disponible.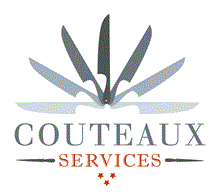 Kitchen, butchers knives, outdoor knives, sharpening material: selection of the best series
The best kitchen, butchers and outdoor knives
Actually not available - delivery delay on request
Minimum purchase quantity
The minimum purchase quantity is not reached
Kitchen knives
Japanese knives
Butchers knives
Hunters knives, Fix blades, Bowies
SHARPENING, GRINDING
PARTNERS
MAL8109501 Dick
Product Details
100% polyester reinforced Dick case with handle and shoulder strap
13 slots for knives with a maximum total length (blade+handle) of 42 cm and
2 large velcro pockets in flap.
Padlock rings (not supplied)
Kit sold empty
Dimensions when closed: 47 x 21 x 7.5 cm
Dimensions open: 82 x 48 cm 
EMPTY Chef's sets, cases and roll bags